UNDERSTANDING GAY CULTURE OF TURKEY WITH WORDS:

For the gay people who have not visited Turkey before, the first step should be getting familiar with the gay culture. The gay culture of Turkey is fairly different than the gay culture of the western countries, as is the case with the general Turkish culture. Turkey, being situated at the intersection of Europe and Asia geographically, was effected both by the western and oriental cultures. Turkey is the only Muslim country where homosexuality is not illegal. This makes Turkish gay life unique in the world. This difference might be good or bad depending on your expectations, but one thing is for sure: It is very vivacious and interesting.

Note that we avoid to cause another misunderstanding with above explanation, because in the west there is already a very big misunderstanding about Turkish culture. Surprisingly, some people in the west still think of Turkey as a very typical and traditional Middle-Eastern country and some of them even think Turkey is just like other Arabic countries and the religion is dominating everything. In reality, Turkey has got a special culture of her own, much closer to the Western culture than most other Middle Eastern countries, except her incorrigible economy maybe.

To understand the gay life in Turkey, let's analyze two Turkish words: "ibne" and "oglan". Actually, both words literally mean "boy" although they are now being used as expression of insult. "Ibne" is originally exported from Arabic and it is being used with a meaning very close to "faggot" in today's Turkish. Although "oglan" means exactly "boy" in formal Turkish, it is often being used to mean "gay" in slang language. Their present meanings' got a historical background:

As we all know, a boy is not a man, not hairy, without beard, with a voice more like a woman, he's got a softer skin etc....As you can easily notice, these are all descriptions of a woman. Especially at times when religion was stronger, a boy could probably be the substitution of a woman. This might be a key to understand the remains of the history in modern Turkish gay culture. Today, the dominating gay-life style for the gay people living in Turkey is between two groups; the "active" ones who would NOT mostly accept to be called "gay" and who are mostly bisexuals, and the "passive" ones who pretend to be women in bed, and who act and sometimes dress themselves up more effeminately. So the first question after meeting a gay-related person might very possibly be "Are you passive or active (bottom or top) ?"

Spreading use of the English word "gay" also is an indication of changing gay culture in recent years. Other people are also getting more conscious about gay people and accepting their different sexual identity more. But still there's a long way to go, and maybe it's questionable which life style is better.

Maybe, these different cultures might be considered as an advantage for gay people in Turkey in a way, since they have at least the two alternatives to choose as their life styles.

Turkey Facebook Group
Please hit the like button to join our Facebook gay group, after which you can post comments, interact with other gay people from Turkey and all over Turkey, make new friends and get latest news about Turkish gay life.
Join the Conversation
You can write your messages below about anything concerning gay life in whole of Turkey by means of your Facebook, Twitter, Google+, Disqus accounts; as well as anonymously as a guest (to be moderated). Please kindly note that use of bad language, obscene words, pornography, discrimination, racism, hate speech etc. etc are not allowed on our websites.
Please login to your Facebook Account to be able to see below content
Capital
Ankara


39°55′N

32°50′E

Largest city

Istanbul

Official language(s)

Turkish
Turkish

Legislature

Grand National Assembly
to the

Ottoman Empire

-

Treaty of Lausanne

July 24, 1923

-

Declaration of Republic

October 29, 1923

Area

-

Total

783,562 km2 (37th)
302,535 sq mi

-

Water (%)

1.3

Population

-

2010 estimate

73,722,988

[1

]

(18th)

-

2000 census

67,803,927

[2

]

-

Density

94.1/km2 (108th)
239.8/sq mi
GDP (PPP)

2010 estimate

-

Total

$1.116 trillion[3

]

[4

]

(15th)

-

Per capita

$15,340[5

]

GDP

(nominal)

2010 estimate

-

Total

$735.264 billion[6

]

[7

]

(17th)

-

Per capita

$10,106[8

]

Gini (2008)
40[9

]

HDI (2011)
0.699[10

]

(

high

) (92nd)

Currency

Turkish lira[11

]

(TRY)

Time zone

EET

(UTC+2)

-

Summer (DST)
EEST (UTC+3)

Date formats

dd/mm/yyyy (AD)

Drives on the

right

ISO 3166 code
TR
Internet TLD
.tr
Calling code
90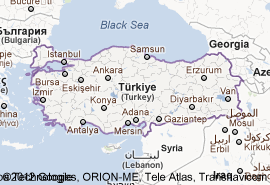 TURKEY
Knocking at Europe's door yet on the threshold of Asia, Turkey is truly a land of contrasts. Here you can scale the icy heights of remote Mount Ararat in search of Noah's Ark, cross the historic Euphrates and Tigris rivers, follow in the footsteps of St Paul or simply relax on the golden Mediterranean sands of Patara beach. Vibrant Istanbul, straddling the blue waters of the Bosphorus separating Europe from Asia, beckons with its skyline pierced by countless minarets, chaotic bazaars and a history redolent with harem intrigue and despotic Sultans.

In Turkey, you can also cruise along more than a thousand kilometers of Mediterranean coastline, past secluded coves, rocky headlands and pretty fishing villages, or explore a hinterland rich in the wonderfully preserved remains of Greco-Roman cities such as Ephesus. For the adventurous, the austere beauty of the Anatolian plateau, the surreal rock-chimney landscape of Cappadocia and the atmospheric ruins of the enigmatic Hittites await discovery. Here, too, is the unique experience of watching the dervishes whirl in pious Konya.

With a code of hospitality nurtured by their Islamic beliefs yet with a remarkable tolerance of other customs, the Turks offer a warm welcome wherever you travel - be it sipping sweet black tea or thick coffee with friendly villagers or sharing a bottle of raki over mezes (hors d'oeuvres) with cosmopolitan Istanbul 'city slickers'.


Travel - International

AIR: Turkey's national airline is Turkish Airlines (THY).

Approximate flight times: From Frankfurt/M to Istanbul is 2 hours 45 minutes, from London is 3 hours 30 minutes and from New York is 11 hours.

International airports:
Ankara (ESB) (Esenboga) is 35km (22 miles) northeast of the city. THY buses go from the city 90 minutes before domestic flights and 135 minutes before international flights. There is a taxi service available into the city. Airport facilities include incoming and outgoing duty-free shops; bank/bureau de change; restaurant and bar.
Istanbul (IST) (Ataturk, formerly Yesilkoy) is 24km (15 miles) west of the city (travel time - 30-50 minutes). A coach (THY bus) goes every 15 minutes to the THY terminal. There are taxi services to the city. Airport facilities include incoming and outgoing 24-hour duty-free shop; bank/bureau de change; restaurant; bar and car hire (Avis, Budget, Hertz and Europcar). Sabiha Gokcen (SAW) is 40km (25 miles) from the city, on the Asian side. It is Turkey's newest international airport, and opened on January 8 2001. There are shuttle bus services to the city (journey time - 30-45 minutes) and to Atatürk International Airport (journey time - 60-70 minutes). Taxis are available 24 hours a day. Facilities include duty-free shops, bank, cash dispensers, business centre and restaurants/cafés.
Izmir (IZM) (Adnan Menderes). A THY bus leaves from the city 75 minutes before departure. Airport facilities include bank/bureau de change; restaurant and bar.

There are other international airports at Gaziantep, Adana, Trabzon, Dalaman and Antalya.

SEA: Major ports are Istanbul, Izmir, Marmaris, Mersin, Antalya and Bandirma. Turkish Maritime Lines (TML), the national shipping organisation, and a number of cruise lines run services to Turkey, including: Golden Sun Cruises, Epirotiki, Linblad Expeditions, Costa, CTC, Norwegian, 'K' Lines and Sun Line. Several ferry routes are available: To/from Italy: Ferries operate between Venice-Izmir, Venice-Antalya/Marmaris, Venice-Istanbul via Pireaus and Brindisi-Cesme. To/from Cyprus: Three routes exist on which sea buses, together with car and passenger ferries, operate: Alanya-Girne and Tasucu-Girne and Gazimagosa-Mersin. To/from Greece: There are privately operated ferry lines between Turkey and the Greek islands: Lesbos (Midilli)-Ayvalik, Chios (Sakiz)-Cesme, Samos (Sisam)-Kusadasi, Cos (Istanköy)-Bodrum, Rhodes (Rodos)-Marmaris, Sömbeki (Symi)-Datça.

Note: All ships, including private yachts, arriving in Turkish waters must go to one of the following ports of entry: Canakkale, Bandirma, Istanbul, Akcay, Ayvalik, Dikili, Izmir, Cesme, Kusadasi, Güllük, Bodrum, Datca, Marmaris, Fethiye, Kas, Finike, Kemer, Antalya, Alanya, Anamur, Söke, Tasucu (Silifke), Mersin, Iskenderun, Samsun, Trabzon, Botas (Adana), Didim, Derince, Tekirdag, Giresun, Rize, Sinop, Ordu, Zonguldak or Hopa (Artvin).

RAIL: There are connections from London (Liverpool Street) via Hook of Holland and Cologne to Istanbul on the Istanbul Express, which also carries cars from several other European cities. There is a weekly sleeper from Moscow. InterRail tickets are available in the European part of Turkey as far as Istanbul. Other international rail routes go to Germany, Greece, Bulgaria, Yugoslavia and Georgia. For more information contact Turkish Railways (TCDD) in Istanbul (tel: (212) 527 00 50/51; reservations: (212) 520 65 75).

ROAD: There are roads from the CIS, Greece, Bulgaria and Iran. Drivers may either choose the northern route of Belgium, Germany, Austria, Hungary, Romania, and then Bulgaria, or the southern route through Belgium, Austria and Italy with a car-ferry connection to Turkey. Coach: There are regular services between Turkey and Austria, France, Germany and Switzerland as well as Jordan, Iran, Saudi Arabia and Syria.