WARNING Most venues mentioned on this website are listed without the approval of their owners/managers. Moreover, some information might be out-dated and there may be some unknown changes. We can not guarantee accuracy of user comments as well, naturally. Please use any information you see here accordingly.
Turkey Gay Forum
(Gay life in small cities of Turkey)
The aim of this website is to give our visitors the opportunity to share information, rather than providing the information itself. Visitors who have a Facebook account can use below comment section to share their experiences about gay life in Turkey, make corrections and/or contact other gay men who know the city well. Please only write messages and comments about the subject of this page.
Turkey Facebook Group
Please login to your Facebook Account to be able to see this page's content
Please hit the like button to join our Facebook gay group, after which you can post comments, interact with other gay people from all over Turkey, make new friends and get latest news about Turkish gay life.
Join the Conversation
You can write your messages below about anything concerning gay life in other cities of Turkey not listed on this website by means of your Facebook, Twitter, Google+, Disqus accounts; as well as anonymously as a guest (to be moderated). Please kindly note that use of bad language, obscene words, pornography, discrimination, racism, hate speech etc. etc are not allowed on our websites.
| | |
| --- | --- |
| | Turkey Gay Travel Guide of Major Cities - Gay bars, clubs, restaurants, cafe shops, hamam, sauna and bath houses, gay beaches, gay friendly hotels, tours, cruises in major cities of Turkey - Click here for Turkey Gay Guide |
Capital
Ankara


39°55′N

32°50′E

Largest city

Istanbul

Official language(s)

Turkish
Turkish

Legislature

Grand National Assembly
to the

Ottoman Empire

-

Treaty of Lausanne

July 24, 1923

-

Declaration of Republic

October 29, 1923

Area

-

Total

783,562 km2 (37th)
302,535 sq mi

-

Water (%)

1.3

Population

-

2010 estimate

73,722,988

[1

]

(18th)

-

2000 census

67,803,927

[2

]

-

Density

94.1/km2 (108th)
239.8/sq mi
GDP (PPP)

2010 estimate

-

Total

$1.116 trillion[3

]

[4

]

(15th)

-

Per capita

$15,340[5

]

GDP

(nominal)

2010 estimate

-

Total

$735.264 billion[6

]

[7

]

(17th)

-

Per capita

$10,106[8

]

Gini (2008)
40[9

]

HDI (2011)
0.699[10

]

(

high

) (92nd)

Currency

Turkish lira[11

]

(TRY)

Time zone

EET

(UTC+2)

-

Summer (DST)
EEST (UTC+3)

Date formats

dd/mm/yyyy (AD)

Drives on the

right

ISO 3166 code
TR
Internet TLD
.tr
Calling code
90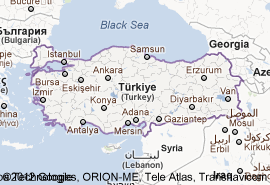 Turkey known officially as the Republic of Turkey (Türkiye Cumhuriyeti), is a Eurasian country located in Western Asia (mostly in the Anatolian peninsula) and in East Thrace in Southeastern Europe. Turkey is bordered by eight countries: Bulgaria to the northwest; Greece to the west; Georgia to the northeast; Armenia, Azerbaijan (the exclave of Nakhchivan) and Iran to the east; and Iraq and Syria to the southeast. The Mediterranean Sea and Cyprus are to the south; the Aegean Sea is to the west; and the Black Sea is to the north. The Sea of Marmara, the Bosphorus and the Dardanelles (which together form the Turkish Straits) demarcate the boundary between East Thrace and Anatolia; they also separate Europe and Asia.

The capital city of Turkey is Ankara. The territory of Turkey is subdivided into 81 provinces for administrative purposes. The provinces are organized into 7 regions for census purposes; however, they do not represent an administrative structure. Each province is divided into districts, for a total of 923 districts.

Provinces usually bear the same name as their provincial capitals, also called the central district; exceptions to this custom are the provinces of Hatay (capital: Antakya), Kocaeli (capital: Izmit) and Sakarya (capital: Adapazari). Provinces with the largest populations are Istanbul (13 million), Ankara (5 million), Izmir (4 million), Bursa (3 million) and Adana (2 million).

The biggest city and the pre-Republican capital Istanbul is the financial, economic and cultural heart of the country.[79] An estimated 75.5% of Turkey's population live in urban centers.[80] In all, 19 provinces have populations that exceed 1 million inhabitants, and 20 provinces have populations between 1 million and 500,000 inhabitants. Only two provinces have populations less than 100,000.

Turkey has a very diverse culture that is a blend of various elements of the Central Asian Turkic, Anatolian, Ottoman (which was itself a continuation of both Greco-Roman and Islamic cultures) and Western culture and traditions, which started with the Westernization of the Ottoman Empire and still continues today. This mix originally began as a result of the encounter of Turks and their culture with those of the peoples who were in their path during their migration from Central Asia to the West.

As Turkey successfully transformed from the religion-based former Ottoman Empire into a modern nation-state with a very strong separation of state and religion, an increase in the modes of artistic expression followed. During the first years of the republic, the government invested a large amount of resources into fine arts; such as museums, theatres, opera houses and architecture. Diverse historical factors play important roles in defining the modern Turkish identity. Turkish culture is a product of efforts to be a "modern" Western state, while maintaining traditional religious and historical values.

The climate in Turkey has a vast diversity depending on the diverse topography and latitude. Aegean and Mediterranean coastal areas enjoy the typical Mediterranean climate. There is hardly a drop of rain during the sunny and hot summer (May to October). Winters are mild and rainy in these regions, and it very rarely snows at coastal areas, with the exception of mountainous areas higher than 2000 meters of these regions, which are very snowy and are frequently not passable. The water temperature in the Aegean and Mediterranean Seas is warm during the long summer season (May to October) which constitutes the swimming season and fluctuates between 23° and 28°C from north to south.

Source: http://wikitravel.org/en/Turkey